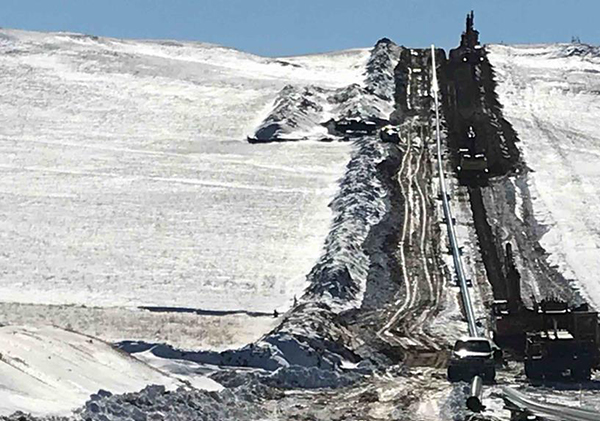 Click here to download a PDF outlining this project.
Client:
ONEOK
Location: Montana, Wyoming, Colorado and Kansas
Start Date: March 2018
Completion Date: December 2019
ONEOK proposed to build an approximately 900-mile, 20" pipeline to transport natural gas liquids from Montana to an existing NGL facility in Kansas.
Assisted ONEOK PM with any and all tasks to ensure successful venture.
Coordinated all 3rd party activities around ROW, permitting, design, procurement, fabrication, water appropriation, survey, environmental, construction, inspection, hydrostatic testing.
Responsible for site layout, interconnect metering, pipeline siting, and HDD designs.
Guided the process for electric power siting to mainline valves.
Managed route & facility changes through MOC process with all stakeholder participation, and accountability of the entire team.
Kept ONEOK web-based project database current with up to the minute project centerline, workspace, access road, valve site, power easement, and landowner information.
Responsible for weekly reporting efforts.
Managed Construction Meetings and RFIs.
Monitored key construction activities and worked to resolve issues quickly and efficiently.
Promoted culture of collaboration at every level; expedited tough decisions to keep project momentum; kept focus on key operating milestones.
Served as ONEOK rep at County Commissioners meetings to seek and acquire road use agreement.
Provided design and as-built system schematics, valve site piping drawings, meter interconnect drawings, structural steel skid drawings, electrical power and controls drawings.
Resolute Engineering and two other engineering groups were engaged to provide expedited engineering services for ONEOK's largest project to date, with each company handling approximately a third of the project. Resolute served as Project Manager, managing environmental, ROW, inspection, construction, procurement and logistics, and survey firms for the portion of the pipeline running through Wyoming. This marathon sprint was possible with the teams rally cry to get stuff done, no excuses.
ONEOK uses the new pipeline to transport NGL product to Texas. It complements the company's other pipeline assets within the region.